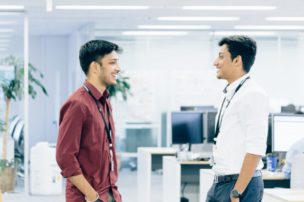 こんにちは!株式会社リンクバルで人事をしています、原です。昨年に続き、今年もIITの優秀な学生が夏休みを使って当社インターンに参加してくれています。
リンクバルについて
主な事業としてはイベントのECサイトとオンラインデーティングアプリの運営をしている会社です。社員数は約80名、その内約1割が外国籍の社員です。秋入社予定の新卒外国人もいるので、さらに多国籍化が進んでいきそうです。
IIT学生のインターン受入
昨年初めて行い、今年も参加させていただきました。そしてありがたいことに、昨年同様2名の学生が今年もインドからはるばる約10時間かけて日本にインターンに来てくれました。
インターン開始から約1ヶ月。少し日本や当社での業務に慣れてきた様子の2人をご紹介します!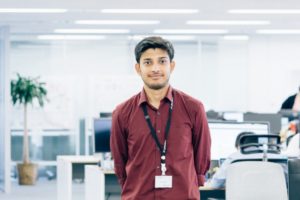 Abhinav Jindal
IIT Ropar
Computer Science and Engineering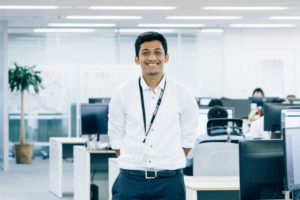 Dhanush Somalapura Ravikumar
IIT Patna
Computer Science and Engineering
---
What kind of project are you implementing?
My project consists of predicting the event cancel probability using the previous one and a half years' data so that the more successful events can be listed on top making it easier for the customers to select the best events available for them and reducing the repayment difficulties to both the consumers and company.
Dhanush:
I am working on the matching app, "CoupLink". I am working on both front end and back end of the web application in improving/adding new features and fixing bugs.
State from the first day to about two weeks.
My first week was basically spent observing the data and finding required patterns and features as that is one of the most important aspects of data science and then in following week started with some basic algorithms. Currently implementing some advanced algorithms for better performance.
Dhanush:
In the first week I went through the existing project directory and understood the project and its working mechanism. Then in the second week I started with small bug fixes and then I wrote some unit tests for existing source code.
What to expect for 2 months?
I think after the internship this project should be completed with some pretty good scores and hopefully, Linkbal uses this and it may prove beneficial to the consumers as well.
Dhanush:
I expect to make the application better than what it was before when I came. I wish to implement useful features that will make into the final release.
Thank you, guys!